Physical and Aesthetic Medicine offers professional skin care products only available through a physician. We are proud to carry the Skinbetter Science product line, and believe the results speak for themselves. We offer a comprehensive array of products that address virtually any skincare concern and can be customized to create a perfect regime for you. It is very competitively priced, and it is all available here in office. We also offer Latisse®, which is a prescription treatment for hypotrichosis (inadequate or not enough eyelashes) and helps you grow longer, fuller lashes.
ALPHARET Overnight Cream
This cream is a unique, patented blend of both an alpha hydroxy acid (AHA) and a retinoid that leaves skin looking rejuvenated with little to none of the irritation that typical retinoids provide. This award winning cream combines two gold standard skin rejuvenation ingredients into ONE product, for the first time ever. You can see significant results in as little as 4 weeks and feel refreshed almost immediately. It has a slow, time released delivery system so it's only needed once a day, and suggested use is as an overnight cream. They added soothing ingredients to offset any irritation from the retinoid and lactic acid for an amazing hydration element as well. You'll wake up feeling supple and fresh. They also added antioxidants to combat free radical damage, vitamin C for skin brightening and some retexturizing agents for smoothing properties. Again...a one stop shop for beautiful skin. ANYONE could use this product, and we suggest you all do!
---
EVEN Tone Correcting Serum
It's a non hydroquinone, non retinol, patented blend of proven skin brighteners that help reduce signs of sun damage. It targets all stages of pigmentation issues...redness, brown spots and even the yellow tone aftermath as well. As an added benefit, it simultaneously helps smooth, retexturize and soften fine lines and wrinkles. It has added antioxidants, vitamin C and fatty acids to also help with repair the skin's natural barrier. An easy, suggested regime with this product and the Rejuvenation line is Even in the morning and AlphaRet Overnight Cream at night. You could layer an additional moisturizer over the top and pair an eye cream to have a full correction skincare regime.
---
ALTO Defense Serum
This is an antioxidant packed serum that achieves 360 degree skin support. This serum neutralizes free radicals, enhances skin vitality and radiance and drastically improves skin redness. Studies show it improved redness by 76% in 5 DAYS. This is something EVERYONE can use as a preventative step to daily damage. Also, for an easy regime, this pairs well with the Alpharet Overnight Cream and covers most skin care concerns.
---
Interfuse LINES Cream
This is a no needle, injectable grade hyaluronic acid solution used to topically fill wrinkles. This is more of a spot treatment, to target deep lines and specific "line" issues. It's also very hydrating, and is recommended as the first treatment in a regime, applied underneath moisturizer or before any other steps. Expression lines and fine lines appear immediately smoother, because of added active peptides. A collagen-nourishing complex of an amino acid building block, messenger peptides and vitamin C works synergistically to support collagen. This is a great support for people who have had in office treatment, as maintenance to prolong results, but also a wonderful at home regime for those of you who haven't yet had injectables.
---
Interfuse Face and Neck Cream
This is a cutting edge approach to collagen boosting in a peptide rich formula. This product uses a proprietary delivery technology that drives a special messenger peptide blend deep into the skin to help bring the look of firmness back. This is a hydrating treatment that is perfect for both the face AND neck and stimulates 5 levels of collagen, all critical to skin density and elasticity. It has an immediate smoothing effect from a neuro-peptide and a breathable layer of moisture, through an exclusive blend of hydrating ingredients, to give skin a radiant glow. It firms the feel of the skin for a more lifted, contoured look. This is a great maintenance cream for people who have had face or neck tightening treatments, or would like to start with a cream.
---
TRIO Rebalancing Moisture Treatment
This is an absolute fan favorite! Heavy, daily hydration without all the weight, Trio is a high-performance, triple-action formula that helps to hydrate a compromised barrier and bring moisture back to the skin. Used as a daily moisturizer this will help support healthier-looking skin, with visible improvement in the look of fine lines, wrinkles and radiance.
---
Interfuse EYE
This is a one stop shop for all eye concerns...puffiness, fine lines, wrinkles, and dark circles. This cream only requires a rice size amount, applied in the morning and evening, and provides rapid results. It immediately relaxes the appearance of crow's feet, brightens and moisturizes. Renew the delicate eye area with this smoothing multi-tasker, featuring the unique and patented Interfuse delivery system.
---
...And more! We also carry moisturizers, face washes, and scrubs from this award winning, results driven line.
A
ll of these products can be purchased in our office during normal business hours, with no appointment required.
---
Latisse®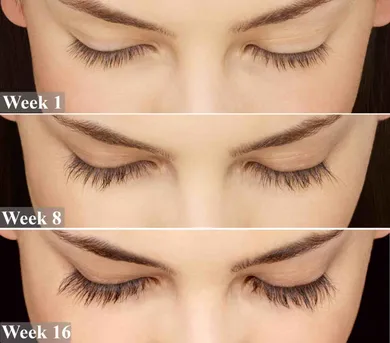 Latisse® (bimatoprost ophthalmic solution) 0.03% is a prescription product used to treat hypotrichosis (inadequate or not enough lashes) to grow eyelashes longer, fuller, and darker. We have both 3 ml and 5 ml bottles available. It is applied nightly to the base of the upper lashes. You should see longer eyelashes within two months. Common side effects are mild eye discomfort, dry or watering eyes, and mild eye redness. Latisse® may cause some color change to your eyes or eyelids. When you stop using Latisse®, your eyelashes will gradually return to their previous length.